Covenant House New York: a Labor of Love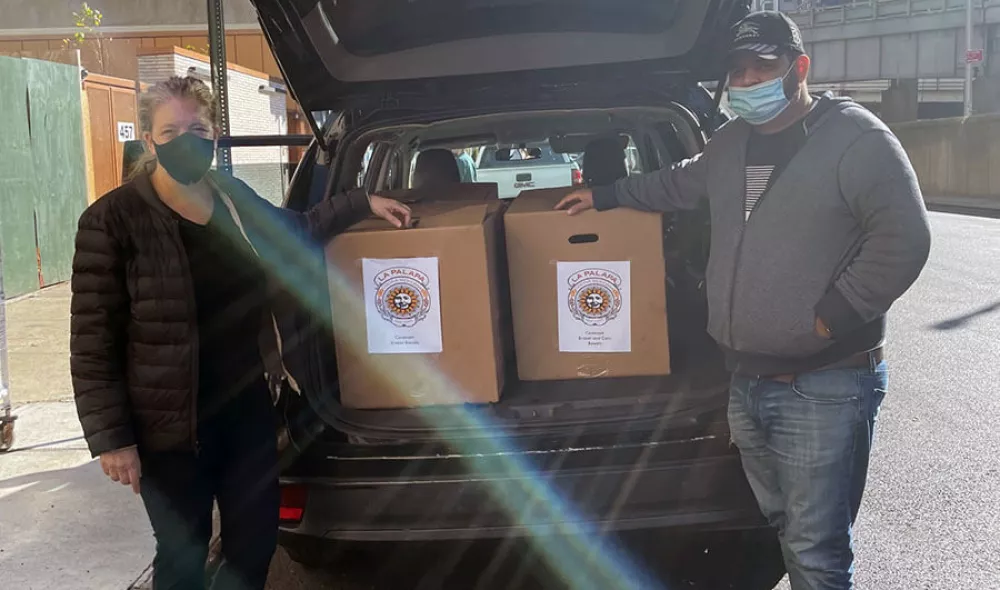 9/11. Hurricane Sandy. The pandemic.
All events that conjure up thoughts of loss, of pain, of suffering.
But when we think of these moments in time, we also think of heroes. Of first responders, doctors and nurses, social workers and grocery store clerks, and all the people who leave their families and go to work in the toughest of times, risking their own health to keep our communities alive.
When Barbara Sibley opened La Palapa Taco Bar in New York City in 2000, she had no idea what was to come. But she did have one firm belief.
"That my restaurant should be a daily part of the community."
And so, when the World Trade Center buildings fell, Barbara quietly stepped up and provided meals, water, coffee, and a place for her fellow New Yorkers to charge their phones.
When Hurricane Sandy upended the lives of so many, Barbara and her team at La Palapa rose at 5 a.m. daily, prepared meals, packed them on ice, and took food to the streets for those who lost power.
And now, as we approach two years of the ongoing pandemic, Barbara and her team once again have quietly stepped up time and time again to prepare over 80,000 meals for hospitals, assisted living programs, and vaccine sites…including over 15,000 meals to our young people at Covenant House New York!
"Our relationship with Covenant House New York began with Gotham Organization as part of their Gotham Gives Back initiative. They are our landlords, but they are so much more," said Barbara. "It was because of their belief in community that they introduced us to Covenant House. They told me that due to the pandemic, with schools and other programs closing, there were a lot more young people coming to Covenant House for food. And so we have been partnering with Gotham to meet that need ever since."
"I don't even want to think about where we would be without the support we've received since day one of the pandemic from Barbara and her team and our partners at Gotham Organization and Gotham West Market," said Sr. Nancy Downing, executive director of Covenant House New York. "Time and time again they have stepped up for us. Barbara has had to work so hard to keep her business going during the pandemic, but still found the time to prepare and deliver meals to our young people. And when we moved into our new building and needed meals while we were getting our kitchen up and running, Barbara and Gotham were there for us again. We are so, so grateful."
"Covenant House is a labor of love," says Barbara. "Meals are important for obvious reasons, but also to provide normalcy and consistency. We are all comfortable to some degree with our routines, with things we can count on in our daily lives. The young people at Covenant House are no different. If they know they can get that lunch or dinner from La Palapa and that gives them even a little bit of comfort, I'm humbled to be able to provide that."
Barbara is also a strong advocate for women in a still male-dominated food industry. She is a past president of the board of the New York Women's Culinary Alliance, on the board of directors of Les Dames D'Escoffier New York Chapter, and a member of Women Chefs and Restaurateurs. She has lectured on women entrepreneurs at the Culinary Institute of America, and testified before Congress regarding the need to increase the federal tipped minimum wage as a gender issue affecting mostly single mothers.
"It is a privilege to be in business and a responsibility I feel to mentor my employees. It's important for them to have strong women as role models," Barbara said.
"I can't think of a better role model for our young people than Barbara," said Sr. Nancy. "She does not just talk about being part of the community. She and her team live it every day."
Shelter Is Only the Beginning
From crisis to care: Find out what it's like when a young person enters our doors.
Get news, stories, and insights delivered right to your inbox.