New Research Gains Insights into Strategies to Support Young Adults Experiencing Homelessness in Today's Job Market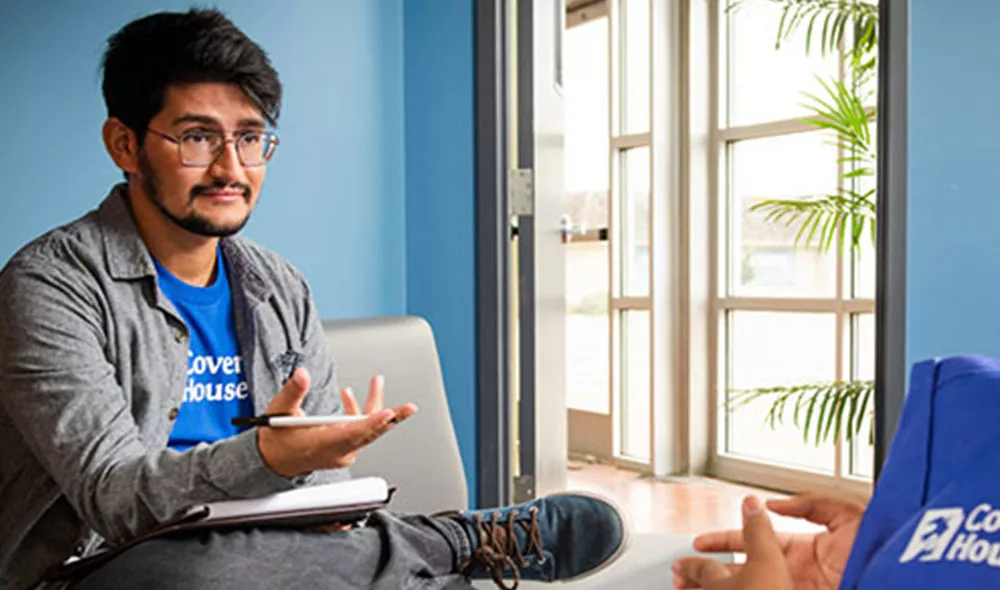 With one in ten young adults experiencing homelessness in the U.S., Covenant House partnered with MDRC, a nonpartisan, nonprofit research organization, to learn directly from the perspectives and experiences of young people as they navigate the workforce amid a changing and precarious labor market.  
From November 2021 through January 2022, the research team from MDRC and Covenant House collected 406 completed surveys from young adults who were accessing services at Covenant House across 17 U.S. cities. One-on-one interviews were also conducted with nine young people across four cities. The research was supported, from inception through analysis, by a group of five young people who served as Research Fellows throughout the project and who had experienced homelessness.  
The research elevated important implications for service providers and policymakers who want to further support youth facing homelessness as they transition from "surviving to thriving." The key findings and implications include: 
Young people were highly engaged in the workforce. Almost all of the youth (95%) surveyed either had work experience or had looked for work; 90% had worked in the past year; and 54% were employed at the time of the survey. More than one fifth (21%) of surveyed youth were currently working more than one job.
Young people expressed clear aspirations and high confidence that they know what employers are looking for. These assets should be acknowledged, leveraged, and complemented by proven skill-building programs that can further prepare youth for the job market.
Discrimination represents one of the most common obstacles to employment reported by youth. More than twenty percent of youth identified discrimination as an obstacle and study findings demonstrated that LGBTQ youth, and youth who identify as genderqueer in particular, experienced disproportionate rates of discrimination in the labor market.
Youth who completed the survey were largely employed in low-paying sectors like food services, which youth reported were less fulfilling and misaligned with career aspirations. This trend points to the importance of offering career-oriented pathways, and job training programs that can leverage widespread reported interest in key occupations and increase access to "opportunity jobs" which do not require a college degree, that pay a living wage, that are unlikely to be lost to automation, and that are projected to grow in a post-COVID era. When asked about top career choices, the most common responses (nearly a quarter of youth) stated either healthcare or social services. Jobs in entertainment were the next most frequent choice. 
Youth with post-secondary education, including industry certifications, have higher rates of employment, job satisfaction, and job preparedness. Many of the common barriers to employment are likely to hinder access to education, which speaks to the need to remove barriers to help young people access post-secondary schooling and training.
Experiencing homelessness and living in poverty creates complex and interrelated obstacles for young people as they search for jobs and maintain employment. Youth reported numerous challenges, including barriers to earning sufficient wages, finding work they are interested in, and accessing transportation. Poverty alleviation strategies, including various forms of income assistance (such as direct cash transfers, stipends, public benefits), can support youth while they seek employment and/or education and help supplement earned income for youth in low-paying jobs. 
Encouraging relationships and program supports can help young people. Youth who indicated having at least one adult who encourages them to establish work-related goals reported higher levels of preparedness and confidence. Programs that provide mentoring have been shown to improve a variety of outcomes for young people. Since most of the youth interviewed reported leaving home due to difficult or unstable family situations, young people described looking to adults at Covenant House for support. One youth shared that "The simple 'Have a good day' [from Covenant House staff] as I leave for work changes a lot for me."
"We know that the climb toward a financially stable adulthood can be steep for young people experiencing homelessness," said Dr. David Howard, senior vice president of research, evaluation and learning at Covenant House and study co-author.  "This study demonstrates that in spite of many challenges, young people are actively engaged in the workforce and youth we engaged expressed an interest and desire to find fulfilling opportunities that can meet their needs. We hope the insights gained about young people's goals and aspirations, as well as their challenges and obstacles, can help inform new workforce strategies and pathways that offer greater financial stability and work satisfaction. We are so grateful to our partners at MDRC and to the youth research fellows for their collaboration in this important work, and to all the amazing young people at Covenant House who shared their experiences and perspectives."
MDRC's project director and study co-author Annie Bickerton added, "Young people today are facing a steep climb towards financial security and meaningful work. Youth facing homelessness share similar challenges with their peers who have stable housing, but they need targeted supports to help them plug into resources and careers that can help them obtain financial security as adults. We hope this research illuminates the potential of these young people and their persistence in the face of systemic obstacles, whether discrimination or lack of transportation options. The upside is that policy change and quality programs can help remove these barriers for youth."
Dahsuri (Dash) Togi, a Covenant House alum who served as one of the Research Fellows during the project and who now works for Youth Collaboratory as a Training & Capacity-Building Associate, added, "As someone who was given a second chance to be a better version of myself, this report highlights needs we need to address and barriers we need to break in order for vulnerable young people to start their journey toward being financially stable. Young people facing homelessness may be three steps behind as they're often focused on meeting their basic survival needs - where to get their next meal or where to find a safe place to sleep and stay warm. Our study highlights ways that programs and policies can better support youth experiencing homelessness so they can make that shift from surviving to thriving."  
About Covenant House
For 50 years, Covenant House has built a bridge to hope for young people facing homelessness and survivors of trafficking through unconditional love, absolute respect, and relentless support. Our doors are open 24/7 in 34 cities across six countries and our high-quality programs are designed to empower young people to rise and overcome adversity, today and in the future. Last year, we reached nearly 43,000 young people across our service continuum, including street outreach, drop-in centers, housing programs, and public education and prevention.
For more information on Covenant House, contact: 
Tom Manning, Covenant House, work (212) 727-4920, cell (845) 300-2126, tmanning@covenanthouse.org
About MDRC
MDRC is committed to finding solutions to some of the most difficult problems facing the nation — from reducing poverty and bolstering economic mobility to improving public education and college graduation rates. MDRC designs promising new interventions, evaluates existing programs using the highest research standards, and provides technical assistance to build better programs and deliver effective interventions at scale.
For more information about MDRC, contact:
John Hutchins, MDRC, john.hutchins@mdrc.org
To read the full report, read here