From Alaska to Honduras: A Shared Experience of Homelessness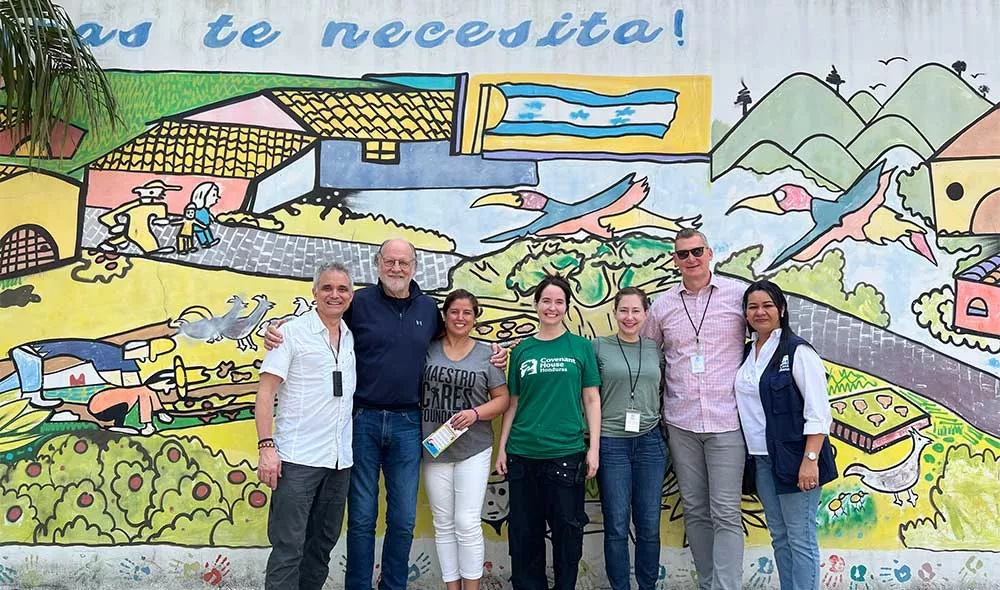 In spring 2023, Dr. April Hunziker, a psychiatrist in the Seattle, Washington, area, traveled to Honduras with a Covenant House delegation to visit our programs in Tegucigalpa and San Pedro Sula. A member of our international board of directors, Dr. April was keen to learn how we serve young people in Latin America. But even more than that, she was excited to connect with our youth, with whom she shares the kinship of common experience. 
Dr. April faced a prolonged period of homelessness in her native Alaska when she was about the same age as our Honduras residents, just 12 to 18. Her connection with our Honduran youth, despite the differences of culture and language, was immediate. 
Like them, she knows how precious it is to be invited into safety from the endlessly unsafe, unstable, and uncaring places youth facing homelessness and trafficking usually occupy. Their joy in knowing that at Covenant House they are loved, respected, and relentlessly supported was also hers.
We asked Dr. April to share her reflections on her visit to Honduras, where she traveled to our Covenant House Honduras residence in Tegucigalpa; our safe house, Hogar Querubines, for survivors of trafficking, abuse, and exploitation; and our community outreach program in San Pedro Sula. Her personal reflections follow.
______________________________________________________________________________________________________
 
In Covenant House Honduras, Querubines Home, and San Pedro Sula, I felt kinship. Despite the language barrier between the youth and me, we shared many stories, many travails. Though we walked different streets, predation, hunger, exhaustion, and despair were our common companions. But, because we came to Covenant House or, more precisely, because Covenant House came to us, we also shared the joy of being invited in; the sense of purpose of having somewhere to be, the relief of being wanted by those who took nothing from us. In the easy smile of a girl who told me that she would, one day, own her own beauty salon, I recalled my exhilaration the first time an adult listened, cared, and I felt a future was possible. Sharing that I too was a resident of Covenant House, she pulled me between clusters of children. Without translation, I understood that I was theirs, and they were my new companions.           
 * * * * *
Maria is 14 years old, and she cannot wait to show us her room. With her two hands, she manages to grab many adult arms and pulls several of us visitors toward her door, happily boasting of the decoration, the comfort, the amenities of her space.   
My travel companions are first to peek into her room, and I see their expressions darken with some concern because in the room there are two sets of bunk beds. They're concerned that Maria shares this space with three other girls and that her bookshelf is also her roommate's shelf of art supplies and trinkets. Instantly, though, I recall the joy I felt for my room at Covenant House Alaska. It was always crowded with two to three other girls. 
When I see the concerned looks on the faces of my companions, I recall the comfort I found in a space that was not mine alone. As a homeless youth, terror often came in empty rooms and quiet places. More than a bigger space, I needed a place that was safe. Beyond that, sharing a shelf or drawer made me feel rich enough to give away some of what was mine and most precious. The happy chatter of girls my age soothed me. It allowed me to close my eyes, relieved that I wasn't alone.   
* * * * *
Our bus turns a corner and rolls through a passage between the high, razor-wire-topped walls of Covenant House Honduras. Behind us, the heavy gate slams shut, as the courtyard fills with young residents and their smiling faces. The steely clang recalls to me the reassuring kerchunk of Covenant House Alaska's front doors locking behind me; the nod of recognition by an adult staff member minding the entrance, declaring to me that I am inside and safe. Finally, my tightly coiled shoulder muscles could unwind. The taut lips and hard stare with which I faced the streets dissolved into the smile of a child who was home. 
* * * * *
At Covenant House Honduras, I learn that youth homelessness often begins with internal displacement, under threat by organized criminals, and migration. I became homeless due to the dissolution of my family under the pressures of poverty and erratic parenting. My experience was characterized by a gradual loss of connection to family and the erosion of security as it is replaced by privation. 
The homelessness of migration, however, is the product of hurried escape; of leaving a place where one has ties to family and community and the generational attachment to a place. It is the burdens of escape that rip families apart. With Darwinian disregard for individual well-being, migration does not favor the weak, the young, the sensitive, or the needy. The most vulnerable, often children and youth, are shed along the path of flight. Youth are lost, abused, trafficked, and exploited in the struggle to overcome myriad legal and illegal barriers to their successful emigration.  
Covenant House Honduras understands how young people become homeless in Honduras — the likely traumas — and is positioned to meet their needs. They make the physical security of residents and staff a priority, creating a sanctuary that allows youth to be humans, not property. Safety in such an environment certainly comes not from walls and razor wire alone. Because the Covenant House mission requires outreach, and not hiding behind barricades, safety and efficacy must come as well from intensely local intelligence, successful relationships, and thoughtful operations.    
* * * * *
Since my return from Honduras, I continue to marvel at the experience of traveling to our sites there with such a remarkable group of people, whom I'm proud to call my friends and colleagues. This experience re-energized my passion for Covenant House and will certainly inform my future work on behalf of our organization.   
Our work in Honduras underscores the necessity of successful federation. Youth homelessness is not a disease caused by a single pathogen. It is a symptom and a common consequence with many causes. Covenant House International's success in ending youth homelessness will come from our ability to understand, support, and strengthen meaningful local efforts to achieve a shared global vision of love, respect, and safety for all young people.
Shelter Is Only the Beginning
From crisis to care: Find out what it's like when a young person enters our doors.
Get news, stories, and insights delivered right to your inbox.