Ann Shares Her Journey to U.S. Citizenship and Her Own Apartment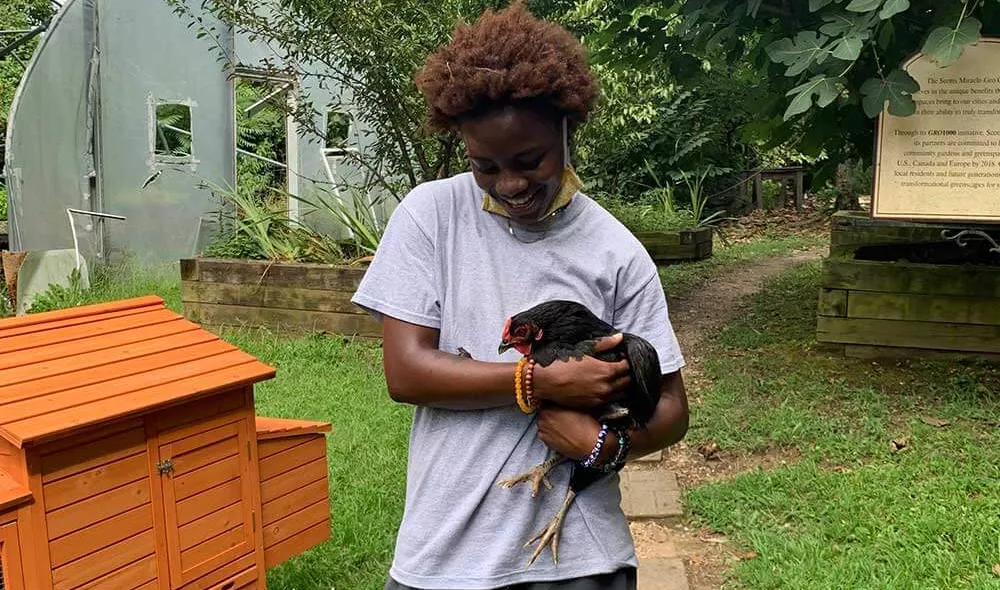 All of us have certain dates on the calendar that we pause to commemorate or celebrate.
Birthdays. Anniversaries. Holidays.
Ask 20-year-old Ann what dates she will always remember and her answer is swift and very unique to her personal journey.
"January 7, 2020. The day I walked into the Covenant House crisis shelter in Philadelphia. I'll never forgot how scared I was and how the staff made me feel so welcomed right away."
Being at Covenant House Gave Me Stability
"Then there is March 18, 2020," said Ann. "That's the day I moved into the Rights of Passage at Covenant House. It's their long-term residential program and the feeling I had that day was that I finally had some stability in my life.
"I'll also never forget June 14, 2021. My graduation from high school as the valedictorian. I did not have a very stable childhood. I was born in Haiti and my family moved to the U.S. when I was four years old. But times were always hard. I can't even remember how many elementary schools I attended, from Miami to Boston to different schools in Georgia and New Jersey.
Being at Covenant House gave me the stability to focus on my goals, like graduating high school and continuing my education. It was a lot of hard work, and I let myself be a little proud on that day. And the great thing was I was able to celebrate with Miss Natalie and all the staff at Covenant House.
"Then there is September 14, 2021. The day I became a U.S. citizen," said Ann. "When I got to Covenant House I made getting my citizenship another of my goals. It was not a big ceremony because of COVID-19, but it is still a day I'll always remember and celebrate."
And the Most Recent Date Ann Will Never Forget?
"That's easy," says Ann. "October 7, 2021. The day I moved out of Covenant House and into my own apartment! I moved in with my roommate from Rights of Passage. It was stressful finding the right place, but we love our apartment and it's pretty close to where I work."
Ann has always loved animals, and while at Covenant House she got an internship with Hand2Paw, a great organization that empowers young adults to learn real marketable skills and pursue fulfilling employment through working with animals. That internship opened the door to the full-time job she has now in a 24-hour emergency veterinarian hospital.
"It is a great combination of two things I am really interested in, medicine and animals. Last week I took home a kitten who didn't have a home. It is going to be a challenge not to take home every dog or cat who needs a place. It's a nice apartment but it's small!"
There Is One More Day That Ann Is Looking Forward to This Year
"Thanksgiving," she said. "Last year I spent Thanksgiving at Covenant House, and I'll never forget it. Even though we could not get together in large groups due to COVID-19, I was able to help the staff prepare meals, and do decorations. It was a tough time for everyone, but being at Covenant House, and knowing I was supported and loved, made last Thanksgiving very special."
Now Ann looks forward to her first Thanksgiving in her new apartment.
"It has been an amazing couple of years," she says. "So much has happened. It has not been easy, but I feel like a lot of hard work has paid off. I have a good job, a nice apartment, a great roommate and a kitten. And even though I have left Covenant House, I still get emails and texts and calls from Miss Natalie and the staff. They will always be by my side, which is an amazing feeling. I have a lot to be thankful for this Thanksgiving."
Shelter Is Only the Beginning
From crisis to care: Find out what it's like when a young person enters our doors.
Get news, stories, and insights delivered right to your inbox.