New Study Reveals for the First Time the Characteristics of a Form of Human Trafficking, Labor Trafficking by Forced Criminality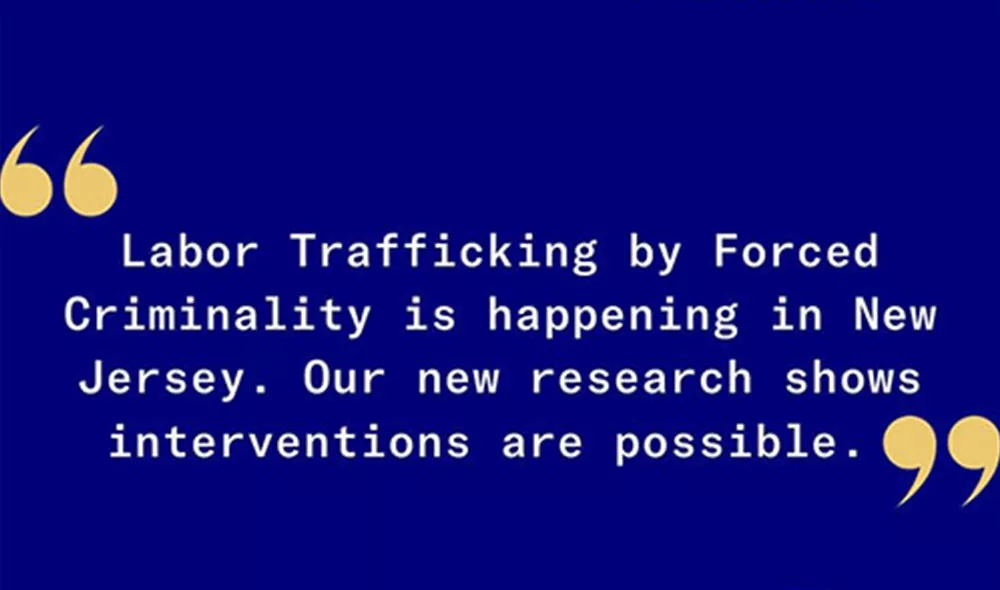 On May 8, 2023, researchers from Covenant House New Jersey, Harvard Medical School, and HEAL Trafficking released a groundbreaking study on the scope and the devastating impact of labor trafficking by forced criminality (LTFC) on vulnerable youth in New Jersey.
The study, "A Case of Mistaken Identity: The Criminalization of Victims of Labor Trafficking by Forced Criminality," reveals that 83% of victims of labor trafficking by forced criminality experienced arrests, and 75% were already victims before they came to the attention of law enforcement. Crimes for which victims were arrested were often related to poverty of homelessness.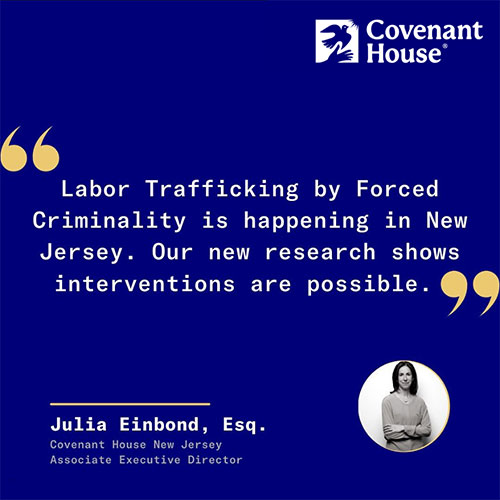 Human trafficking is a notoriously invisible crime because victims are so difficult to find and identify. "Traffickers profit from hiding victims from systems that have the capacity to intervene," said Julia Einbond, study co-author and head of the Covenant House Action and Research Tank (CHART) at Covenant House New Jersey. "Law enforcement is seeing victims of labor trafficking by forced criminality when they are young and before they have developed criminal records, and so this is the urgent opportunity to intervene with victim services."
"When systems miss tell-tale signs of victimization, victims learn not to trust systems," said Hanni Stoklosa of Harvard Medical School and HEAL Trafficking and one of the co-authors of the study.
Covenant House New Jersey's research has shown that as many as half of all identified human trafficking survivors among youth facing homelessness in New Jersey have been labor trafficked. Among this group, the most common type of labor trafficking is LTFC.
Aiden was 12 years old when he took a job delivering food products, but later learned he was actually delivering cocaine, methamphetamine, and marijuana. He only received a portion of the money he earned from selling drugs. His trafficker told him that if he didn't do what he was told or told anybody he would be hurt. 
Tragically, once young victims like Aiden are labeled criminals, far too often they continue down that path. Elizabeth Ruebman, Policy Director at Newark Community Street Team, says, "When systems tell victims that they are criminals, victims are not connected to appropriate victim service interventions that may change the trajectory of their lives."
"When the LTFC survivors sought shelter at Covenant House New Jersey and gained access to legal counsel, their pathways changed, resulting in dropped or reduced charges, fines, and fees," said Einbond. "This research makes an urgent public policy argument to think again when a young person is arrested for a low-level crime.  When systems tell victims they are criminals, they establish a pathway to criminalization that may have been avoidable with appropriate victim service interventions."
The study revealed an immediate need to increase awareness of LTFC among the public, social service professionals, healthcare providers, and law enforcement. Clients in this study interacted with a number of systems (justice, child welfare, educational) before being identified as a victim, usually years after the victimization occurred. Additionally, the utilization of screening tools in these sectors would provide additional opportunities to identify victims and prevent criminalization. 
"We need to take action," said Einbond. "Increased awareness, Safe Harbor laws, more high quality legal representation, and additional avenues for young people out of criminalization. It is our moral responsibility to provide support for young people who are survivors of human trafficking."
About Covenant House New Jersey: 
For 34 years Covenant House New Jersey has provided shelter, housing, and wraparound services to youth facing homelessness, and since October 2020 has served as the point of entry to victim services for all human trafficking survivors of any age and any housing status throughout NJ. CHNJ created the first validated brief screening tool for human trafficking - Quick Youth Indicators for Trafficking (QYIT) - and has been using QYIT followed by an assessment to identify survivors of human trafficking since 2016.
About HEAL Trafficking:
Knowing that the majority of individuals experiencing trafficking access health care during their exploitation, HEAL Trafficking's mission is to lead innovative health solutions to eradicate human trafficking in communities worldwide. Founded in 2013, HEAL's services - including education, training, customized materials, consultation, technical assistance, and advocacy work - are used the world over to not only shine a spotlight on the plight of those being trafficked, but also to put an end to the practice; the settings HEAL works in include hospitals, health centers and clinics, prehospital care, and all other physical and mental health-related venues where trafficked people receive medical and behavioral health care.