New York Giants Saquon Barkley Nominated for 2022 NFL Walter Payton Man of the Year Award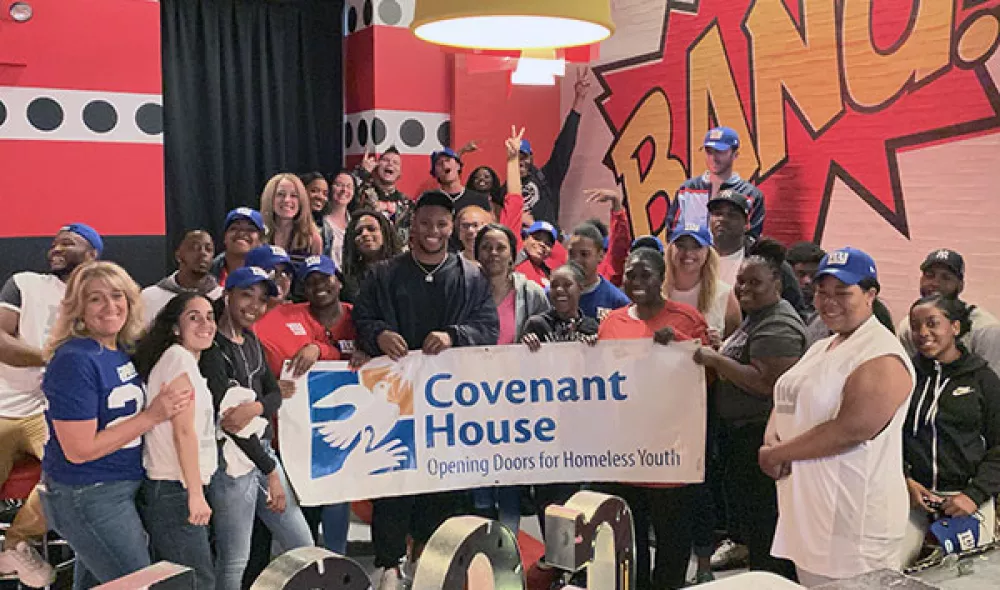 New York Giants star running back Saquon Barkley is well-known for his talent on the field. Now the NFL has recognized Saquon's ongoing efforts to make a difference off the field, and Covenant House New Jersey has been a big beneficiary of those off the field efforts.
Saquon is the NY Giants' nominee for the 2022 NFL Walter Payton Man of the Year Award, which recognizes NFL players for outstanding community service as well as excellence on the field.
"Being the recipient for the New York Giants and getting honored is truly amazing," said Saquon. "But it's not just about winning the award. It's about the work you do in the community to try to make an impact and make change.
"All you have to do is take the time to get to know the young people at Covenant House to see how good they are, and how resilient, and brave, and funny, and talented," said Barkley. "These are great young people, and their futures are filled with potential. I have seen firsthand the difference this program makes in the lives of the amazing young people at Covenant House."
"This is such a well-deserved honor," said Covenant House New Jersey Executive Director Jim White. "Every night, thousands of young people experience homelessness on the streets of New Jersey. Saquon finds this unacceptable … and he's doing something about it."
For over four years, Barkley, with support from the New York Giants, has donated his time, talent, and resources to support Covenant House New Jersey, an organization that provides crisis and long-term housing and support that empowers young people to break the cycle of homelessness and poverty.
Saquon has been the Chairman of Sleepout: Executive Edition for Covenant House New Jersey for four years in a row, which raises millions of dollars that goes directly to providing food, clothing, emergency and long-term housing, medical care, counseling and job training.
"Saquon quietly and without fanfare hosts groups of our young people on the field at all Giants home games and has been doing that since his rookie season," said White. "He and the Giants have partnered with Inspire Change, the NFL initiative that does so much in our communities to support programs that reduce barriers to opportunity. Saquon, the NFL, and the New York Giants are true champions for young people overcoming homelessness. In our eyes he truly deserves to be the NFL Man of the Year."
Saquon is now one of 32 players selected as their team's Man of the Year, representing the best of the NFL's commitment to philanthropy and community impact. The 2022 Walter Payton Man of the Year will be announced during a primetime awards special to air the Thursday before the Super Bowl on NBC.
To learn more about Covenant House New Jersey or Sleep Out, please contact Janette Dubenezic @ Jdubenezic @covenanthouse.org