Former Covenant House Residents Gather for First Ever Alumni Community Day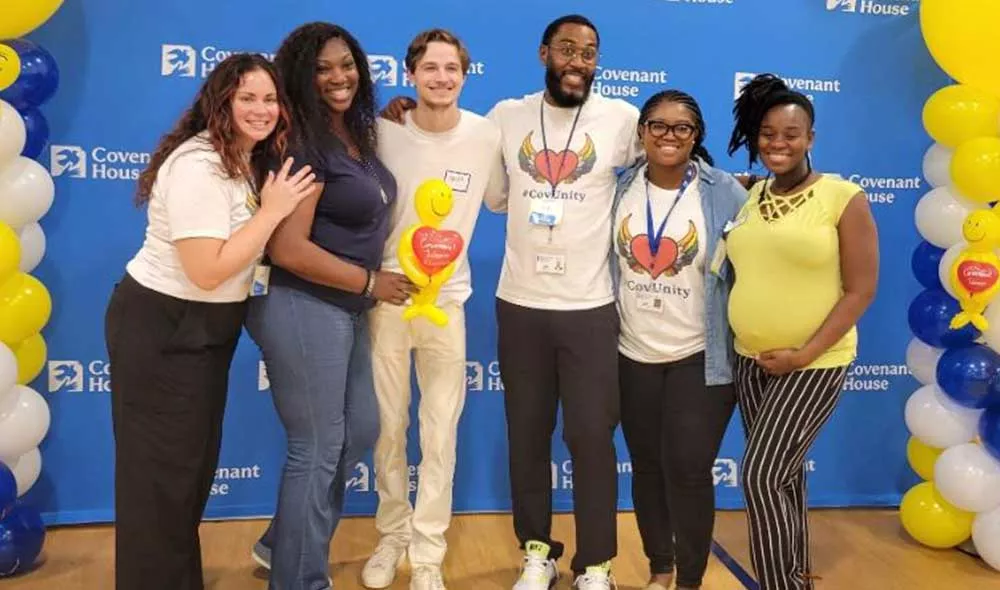 The very first Covenant House Alumni Community Day, held Aug. 18, was a joy-filled occasion at the recently rebuilt Covenant House New York sanctuary in the heart of New York City. Former residents connected with today's youth, engaged in professional workshops, and reveled in the warm and empowering embrace of Cov love past and present.
Jamel Thigpen, organizer of the Covenant House Alumni Community, welcomed the former residents to CHNY's Pride Hall. "This community has existed informally for 50 years thanks to those of you who exited Covenant House and saw a reason to keep in touch with us, with each other, and to be a part of the community shining a light on the issue of youth homelessness," Jamel said.
He walked participants through the day, which would include two workshops to be offered by Covenant House partners Exec Comm and The Financial Diet, respectively. Participants would choose between Exec Comm's "Presenting with Impact" session and TFD's "Entrepreneurship Bootcamp."
The whole event was made possible by members of the Covenant House community, including two alumni, who sponsored it. Jason Juliano of EisnerAmper, an audit, accounting, and tax services firm, was a CHNY resident in 1986. Dan Freed, CEO and founder of Thesis, which offers natural remedies to problems with cognition, was a resident of CHNY in the early 2000s.
Patrick Finnegan, a supporter of Covenant House's work, was another sponsor. Patrick attended the Alumni Community Day and greeted participants warmly with words of appreciation and encouragement.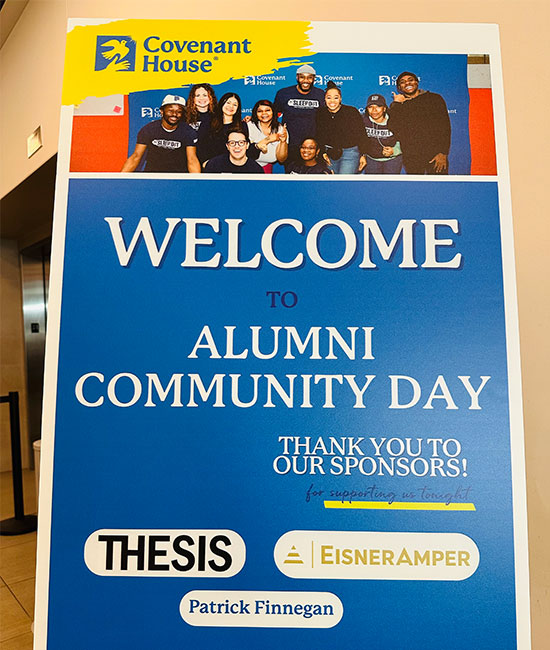 Throughout the day there was a feeling of camaraderie. "I definitely feel the reunion vibe," said alum and current Covenant House International board member Jason Villanueva. A senior project manager for a New York construction company, Jason was a resident of Covenant House New York in 2006 and, according to Jamel, is an inspiration for what is now the Alumni Community, due to Jason's numerous conversations with Covenant House leadership. 
The reunion vibe he alluded to was a special one, where former residents recalled both shared experiences of hurt and homelessness and the experience of finding safety, healing, strength, and confidence at Covenant House. They not only looked back with nostalgia but forward with hope, determined to support today's young residents.
"I still remember my first night at Covenant House," said Priscilla, who lived at CHNY from 2008 to 2009. "I laid on my bed and I just felt I would be okay."
Priscilla took out some tattered photos from her purse. "We're still friends," she said, flipping through pictures of her former Covenant House roommates and fellow residents. "This is Teresa and her daughter Hope. This is Jannelle. It took me back to us when I saw the kids together here. These kids are so strong and so beautiful. I can't believe how great they are. They just need to have someone reach out and help them. I want to do that," she said.
Jackie remembers being in a cab on a cold night back in 1986. "I was not sure where Covenant House was, and I didn't have a lot of money. I was so scared I was not going to be able to pay the fare. But when the cab driver found Covenant House, he didn't charge me. He just wished me well. I will never forget that.
"That first night, I had nothing but the clothes on my back," said Jackie. "The first thing they did was give me clean clothes and wash the clothes I was wearing. I remember going to the classes they provided. I learned to type, and that started me on my career as a legal secretary. This place helped me in big ways and small ways. It is beautiful to come back and see how Covenant House continues to help young people. What a great day."
Janet came to Covenant House in 1998 when her daughter was just a baby. She now has two children and three grandchildren, with another grandchild on the way. "Covenant House is everything to me, they took me in when it was just me and my daughter. Covenant House built me up, put me on a career path. A day like today is great because it shows the impact Covenant House has in people's lives."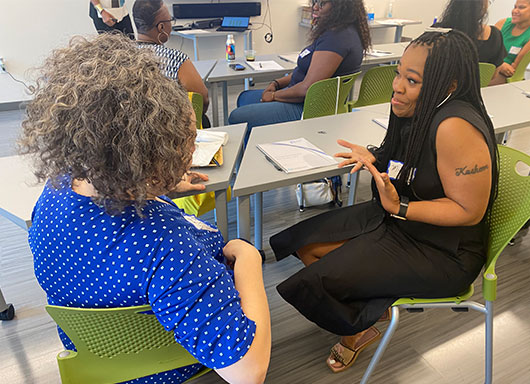 Part of the day was indeed devoted to interacting with CHNY youth ambassadors, current residents who are sharing their stories and building their own paths to independence. In the entrepreneurship session, alumni sat in small groups with youth ambassadors to design a pitch for an invented product. After working out their pitches, they had 90 seconds to present their product to the whole group and two minutes to field questions about it.
"It was about gaining experience, with all that love and support," said youth ambassador Erika. "We got all the steps. It was like I was actually doing it; like I was living in the future or taking a glance at what that future will be. Not what it might be; what it will be!"
Nathaniel, another youth ambassador in the workshop, said how much he learned about partnership. "Everyone has to come together," he said. 
"That's right," Erika agreed. "If you have a product but no team, it will all fall apart." 
Mark shared that a common theme about Covenant House alumni past and present is their desire to help others. "Everyone I speak to is either working or going to school in a field that makes a positive difference in people's lives," he said. "I'm working with senior citizens, and it is great to meet with other alumni and see what they are doing. I hope this becomes an annual event."
Before the session closed, CHNY alum Dom Gervasi addressed the participants. "All of us are survivors," he told the youth and alumni. "We're all way creative. We know how to get through. Don't leave out the possibility that you could start your own business. I started my own business with Brooklyn ingenuity!" A resident in 1986, Dom owns and runs a Brooklyn tour company.
The workshops turned into well-appreciated opportunities to hone some skills and get new professional insights. But the greatest value of the day, said alum Givonna, was in the reaffirmation of community. "It gives me a sense of community to be with others who have experienced the same as me. We have that one thing in common. Someone else who learns of my history of homelessness may look at me strange. But you get me," she said of her fellow alumni. Givonna lived at CHNY in 2004. 
For Jason, it's also about supporting today's youth. "The way I work and serve and what I believe is you can't keep it unless you give it away," he said. "I've been blessed and caressed, and it all started here, the calling to help somebody in need.As a father and husband, I want to keep doing this. It's all about service."
Jason challenged the former residents to spread the word and grow the Covenant House Alumni Community. "If we don't come together for our youth, it's not going to happen," he said.
Jamel echoed Jason's sentiments by adding "This has been over a year of planning and dedication from all of Covenant House for you, our alums. To celebrate you all and your successes and give something back to you for being here. Our next step is to go 500 deep, 500 alum together to show our support to the new generation of young people at Covenant House."
Shelter Is Only the Beginning
From crisis to care: Find out what it's like when a young person enters our doors.
Get news, stories, and insights delivered right to your inbox.