Calm and Composed in a Crisis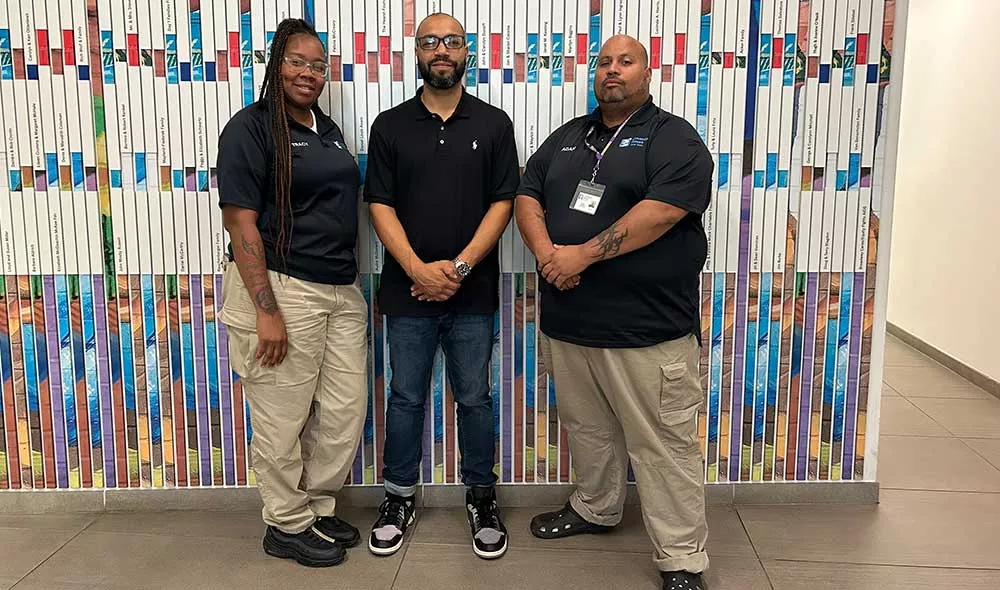 Covenant House New York Public Safety Officer Adam Pedroza was nearing the end of his midnight to 8 a.m. shift on July 26 when his morning routine changed dramatically. 
"A crane had just caught fire above our shelter," said Adam. "Our training kicked in, and we immediately assessed that an evacuation was in order. We went from floor to floor and room to room. All twelve floors, every room, telling the kids over and over this was not a drill, this was not a drill. We had 119 young people and 20 staff in the building that morning. No one was going to be left behind." 
Adam, Sean, and Monique of our public safety team and other staff on duty effectively evacuated all 119 residents who were in our shelter that Wednesday morning. "Of course, it was a shock to the kids, and many of them wanted to go to the bathroom first, or grab some of their belongings," said Adam. "But we needed everyone out. Our young people got it and were great, they didn't panic, they listened and together we all evacuated in just under seven minutes. I made sure I was the last one out of the building."
Tracy Eagan, another of our hard-working public safety officers, had a different perspective of the accident. 
"I was driving into work that morning when I saw the crane," she said. "I got to the shelter and got to work assisting with getting all of our young people to safety in a nearby park a few blocks away from Covenant House. We stayed with the kids in that park, got them water since it was a really hot morning, and some snacks, and just made sure they were okay because this was obviously a traumatic experience for them." 
While Tracy and our team made sure our youth were safe in the park, other staff members were working on temporary locations for our young people to stay. "We got word that the staff at the All Stars Project a few blocks away were kind enough to let us use their facility, and so we all walked there together," said Tracy. "We were there all afternoon, while staff worked on other housing for the night. Once again, everyone worked together, communicated well, and made the best out of a tough situation.
"I give my co-workers all the credit," said Tracy. "They evacuated the youth, got them away from the crane, no one got hurt, everyone was accounted for and cared for. In the days that followed, we all came in on our days off to do safety checks of the building. It was a great team effort and a privilege to be with our kids during a tough time."
"I can't thank our public safety team enough for their support and efficiency in light of such a dangerous situation," said Jason Savinon, building operations manager at Covenant House New York. "When I called our public safety team immediately after the accident, they were already evacuating our youth and doing floor by floor sweeps to confirm our building was empty. We have a great team who work so well with each other and with our young people at Covenant House. This is more than a job for our team here."
Tracy has been working at Covenant House since last November. But she knew about us long before. "I stayed at Covenant House New York back in 2001," said Tracy. "Covenant House helped me get my first job, and helped me with so many other things in my life at that time. So I can relate to our youth here and they can relate to me on a different level. I try to guide them the right way. It is a privilege to be here with them to help in any way I can from my past experience. Our young people inspire me every day, and really inspired me with how they responded to this crisis." 
Adam can also relate to our young people from lived experience. "My mom left me when I was 6-years-old, and I spent time on the streets. So it's an honor for me to work here, not only be doing a security job that I love, but to be able to interact with the young people, to share what I can, and help in any way I can."
Adam has been in the security field since 1999, but only joined our Covenant House public safety team in November. "I guess you could say I got my baptism by fire here," said Adam. "God was on our side that morning, it could have been so much worse, and I am so proud of my coworkers and the young people here for everyone's response. But I do hope there are quieter days ahead."
Shelter Is Only the Beginning
From crisis to care: Find out what it's like when a young person enters our doors.
Get news, stories, and insights delivered right to your inbox.