How to Build a Better Future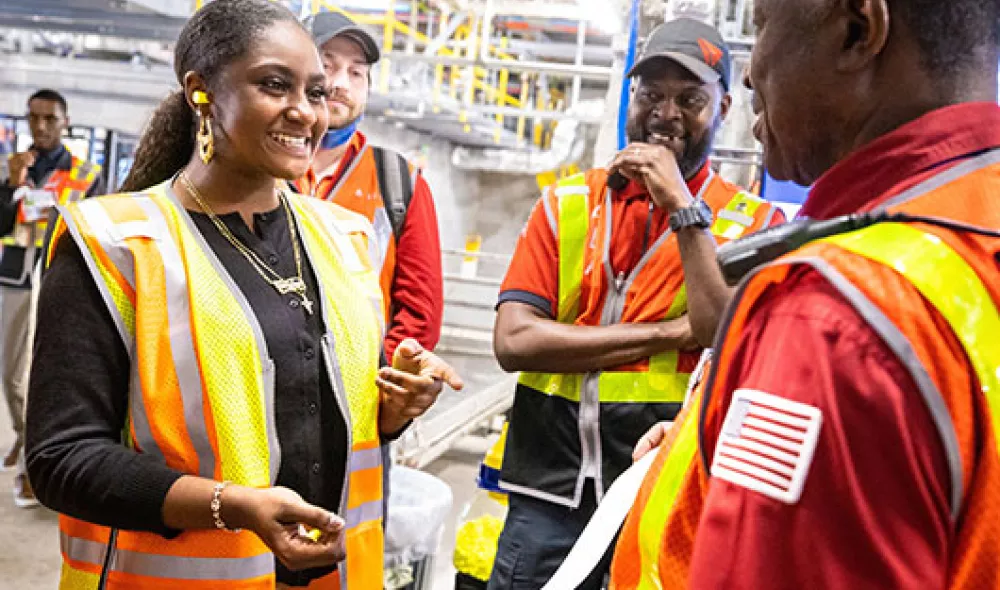 Young people, especially those experiencing homelessness, face daunting challenges in the job and housing markets. Covenant House is working with trusted corporate partners to provide job readiness programs and access to career pathways, while we also advocate for systemic changes that both promote livable wages and develop housing opportunities for youth.
When Cheyenne talks about her graduation from the Delta Career Readiness program at Covenant House, she struggles to hold back the tears. "I was given a great opportunity," she says, catching her breath, just days before she would begin formal training for her new job as a Delta Air Lines flight attendant.
"From the time I was a little girl, I always knew I wanted to be in the air, serving people, and seeing the world," the Covenant House New York alum says. "I would never in a million years have thought, given my circumstances, that at the end of this journey I would end up with my dream career."
Cheyenne's career plans had been interrupted by a period of homelessness. When she found sanctuary at Covenant House, she also found career mentors and a robust workforce development program that affirmed her dreams and gave her the means to turn them into reality.
Like Cheyenne, the vast majority of Covenant House residents have career aspirations. Last year, we and partner MDRC published a 17-city study of young people accessing our services. The study, "From Striving to Thriving: Youth Perspectives on Navigating Homelessness and the Labor Market," showed that our youth are highly engaged in the workforce, either holding down jobs or looking for jobs, while also working to recover from being unhoused at a critical age.
At Covenant House, we're proud of our career pathways program. We know, however, that it will take systemic change to ensure that every young person has a fair chance at a happy and productive life. Too often, young people are thwarted in their ambition by the lack of well-paying jobs and a dearth of affordable housing.
Federal and state minimum wages still fall far short of soaring rental costs. The average minimum-wage worker has to work at least two full-time jobs to afford a modest one-bedroom rental unit at a fair market price, according to the National Low-Income Housing Coalition (NLIHC).
Furthermore, NLIHC says that from 2019 to 2021, the lowest-income renters experienced the steepest rent increases — 12%. Among these renters, Black and Hispanic renters experienced the highest increases — 15% and 16%, respectively.
For young people at Covenant House, who are working so hard to achieve independence and self-reliance, it can be like pushing a boulder uphill, only to have it slip through their hands and roll past them, back to where they started.
So, in addition to the programs and services we offer, we also are advocating for the U.S. Congress to make three important changes to the way they fund programs that support young people experiencing homelessness. These changes will support youth in their search for meaningful work, stability, and a lifetime of independence.
Covenant House will press the Congress to make paid work a priority for young people facing homelessness, providing set-aside funding for programs, like ours, that prepare youth for jobs and careers. We're also asking that they incorporate supportive services into their funding plan to enable organizations like Covenant House to provide transportation and other services youth need to get to and from work and to be successful at their jobs.
Finally, we'll ask Congress to support a pilot program that subsidizes employer-based workforce development programs. This will allow Covenant House and sister organizations to cultivate the desire of companies, like our partner for over a decade, Delta Air Lines, to build and operate programs that train youth for solid careers in their industries.
For Cheyenne, that opportunity was life-changing. "I don't have to stress anymore," she says. "As a young adult, people are always asking, 'What are you going to do with your life?' But I already know. I'm a Delta Air Lines flight attendant. It just gives me peace of mind."
Shelter Is Only the Beginning
From crisis to care: Find out what it's like when a young person enters our doors.
Get news, stories, and insights delivered right to your inbox.