Rachel Brosnahan, Ariana DeBose, Claybourne Elder, Javier Munoz and Over 50 Stars to Sleep Out in New York City in Support of Youth Experiencing Homelessness on August 20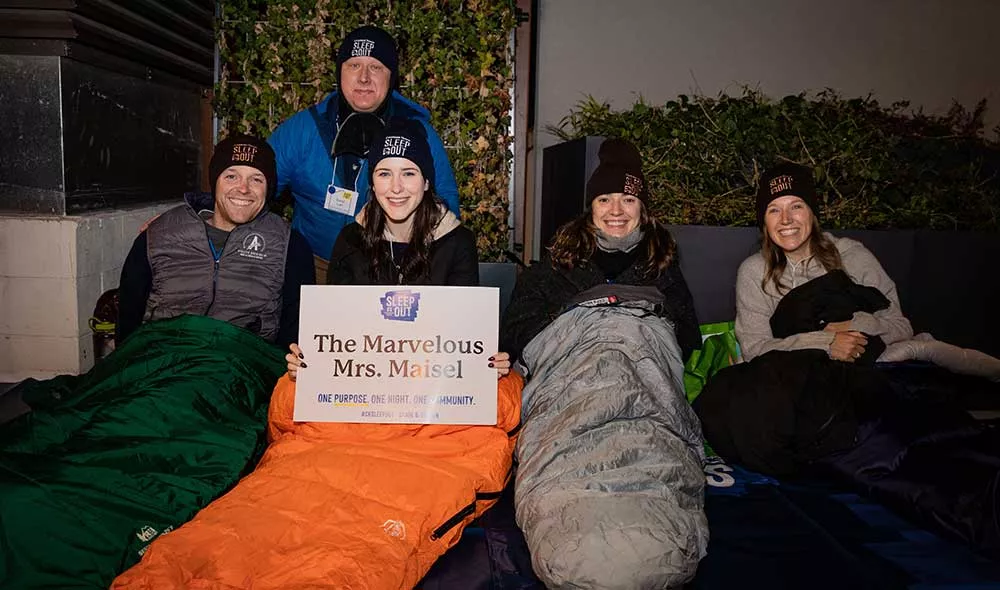 Teams of stars from The Marvelous Mrs. Maisel, Back to the Future, Girlcrush Comedy, Sweeney Todd, and The Sign in Sidney Brustein's Window will also be sleeping out this year. 
 
Additional participants include recent Tony Award-winner Miriam Silverman, Julian De Niro, Matilda Szydagis, Jonalyn Saxer, Karlee Fomalont, Tommar Wilson, Karen Mason, Rachel Sussman, David Carl, Caileigh Scott, Daniel May, Christina Shea-Wright, Brian Reavy.
On August 20th, more than 50 members from the Broadway, film and television industries will be sleeping on the streets of New York City in support of young people overcoming homelessness at Covenant House as a part of Sleep Out: Stage and Screen. This powerful evening of advocacy is being sponsored by Broadway Care/Equity Fights AIDS.
"My life was profoundly changed by my first Sleep Out 11 years ago and I'm honored and excited to be sleeping out again," says Emmy, Golden Globe and SAG award-winning Rachel Brosnahan, a member of the Covenant House International board who will be sleeping out for the 11th time.  
 "What I love about Covenant House is that staff see young people the way they deserve to be seen and meet them exactly where they're at with a commitment of unconditional love and  absolute respect. Sleep Out: Stage and Screen is going to be a special night of community, and I hope people across the country will join us in spirit and solidarity with the amazing young people at Covenant House."
Oscar, SAG, and BATFA-Award winning actress and Covenant House International Board Member Ariana DeBose will be sleeping out for the sixth time. "As someone who moved to NYC when I was 19, I know firsthand that having a home and a sense of community are essential for young people to pursue their dreams, and I believe everyone should have that opportunity," said DeBose. "That is what Covenant House is: a place where all young people, including those from the LGBTQ+ community and diverse backgrounds, are welcomed and valued. I look forward to Sunday night and a chance to once again show my support for this important cause."
Rachel and Ariana will be joined by more stars as well as directors, technicians, and behind-the-scenes professionals who are reaching out to youth experiencing homelessness in this inspiring, personal way. For a complete list of participants, please visit sleepout.org/event/stageandscreen.
"We are so honored to have Rachel, Ariana, and all of these talented people in our Sleep Out movement," said Bill Bedrossian, president and CEO of Covenant House who will be attending the Sleep Out. "For over a decade, this community has been some of our biggest champions, and the unity they display when they come together in solidarity on this night shows how dedicated they are to ending youth homelessness. It is nights of advocacy like this that help us keep our doors open 24/7."
Critical funds are raised during the Sleep Out that help Covenant House provide young people with necessary support, including safe shelter, nourishing food, clean clothing, medical care, and life-changing services like job training, education, mental health counseling, and legal aid. 
Media is invited to attend beginning at 8:30 p.m Sunday night through 7 a.m. Monday morning. 
Locations: 8:30 pm - 11 pm: Covenant House New York, 460 West 41st Street, NY
11 pm - 7 am Monday morning: Participants sleep out at Sts. Cyril & Methodius Church
41st St. and 10th Ave (directly across the street from Covenant House.)
For more information, contact:
Tom Manning
Covenant House
845 300-2126
ABOUT COVENANT HOUSE  
Covenant House is the largest, primarily privately funded charity in North and Central America helping youth experiencing homelessness and survivors of human trafficking through 24/7 crisis care and ongoing support in 34 cities across five countries. For more information, visit covenanthouse.org.
Shelter Is Only the Beginning
From crisis to care: Find out what it's like when a young person enters our doors.
Get news, stories, and insights delivered right to your inbox.