Covenant House To Host Thousands for Annual Global Sleep Out in a Call To End Youth Homelessness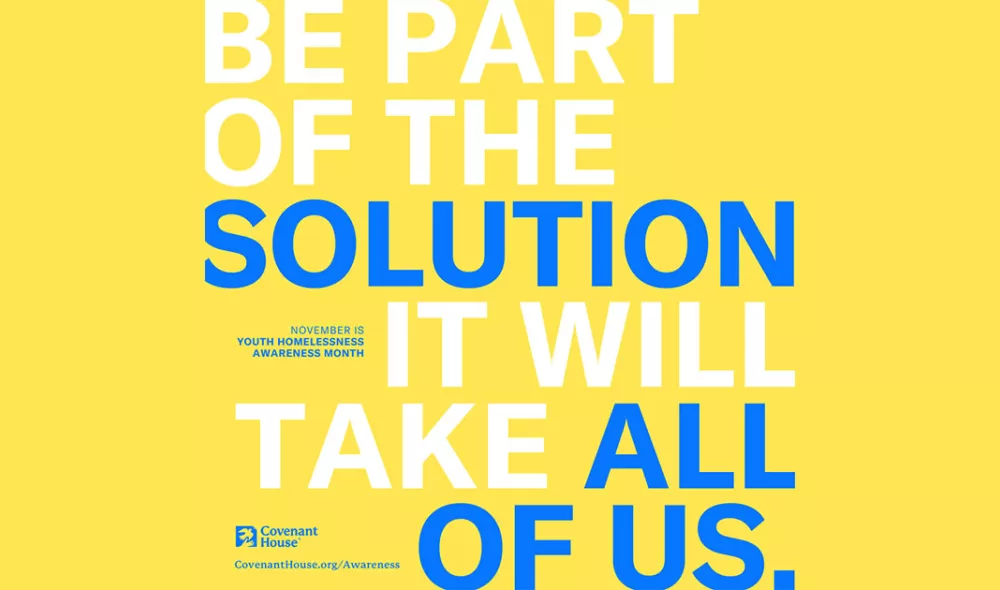 In support of November's designation as Youth Homelessness Awareness Month, Covenant House will be supported by longtime champions including Ariana DeBose, Rachel Brosnahan, Brian Cashman, John Dickerson, Audra McDonald, Raúl Castillo, Jewel, Saquon Barkley, Colton Ryan, and many others in an effort to end youth homelessness.  
Covenant House, the largest, primarily privately funded charity in the Americas helping homeless and trafficked youth, is galvanizing business leaders, celebrities, individuals, and families from all walks of life this November for Youth Homelessness Awareness Month to put an end to youth homelessness.
On November 16, the organization will host their annual Sleep Out to End Youth Homelessness presented by Cisco at 16 locations around the world. For the first-time ever, there will be a Sleep Out in Times Square presented by Kia, in addition to Covenant House locations across the U.S. Canada, Mexico, and Guatemala. Thousands of participants will give up their beds for one night to raise funds and ensure that young people facing homelessness can sleep safely at Covenant House.
"There are 4.2 million youth experiencing homelessness each year in the U.S. alone," said Covenant House President & CEO Bill Bedrossian. "It is our moral obligation as a society to provide safe places for young people to sleep, to have no young person go hungry, no young person to be caught in the nightmare of human trafficking. Every day at Covenant House, we care for young people who are highly motivated and pursuing their promise and their dreams. We need to join our voices with them, to change laws, policies, and practices that lead to youth and young families becoming homeless in the first place.
"Everyone can do something this November," said Bedrossian "By participating in a Sleep Out or supporting a Sleep Out participant, everyone can help and raise urgently needed funds for Covenant House, spread awareness about the youth homelessness crisis, and send a powerful message of solidarity to our youth."
Many companies are joining Covenant House's coalition for Youth Homelessness Awareness Month to raise awareness that no youth should be without a home, including Cisco, Kia, Accenture, American Eagle, BlackRock, Chick-fil-A Tri-State, Delta Air Lines, Edrington, Hard Rock NYC, Morgan Stanley, NBA, NBPA, The Starbucks Foundation, Tao Hospitality Group, Take-Two Interactive and others.
"At Cisco we find it unacceptable that millions of young people experience homelessness, and our entire organization takes this personally," said Jonathan Davidson, EVP/GM, Cisco Networking. "The young people at Covenant House are intelligent, and hard-working, and it is an honor to support them. Cisco will be sleeping out in 21 cities engaging up to 1,000 employees to Sleep Out for one night to raise awareness and funds for youth facing homelessness to have a safe place to stay at Covenant House."
The Global Sleep Outs, Vigils, and community events being held in November will raise critical funds that help Covenant House provide young people with necessary support, including access to safe shelter, nourishing food, clean clothing, and essential services like job training, education, healthcare, mental health counseling, and legal aid — all the tools they need to build futures free from homelessness. 
Activations will continue throughout the month, including the launch of new public service announcements featuring longtime champions Ariana DeBose, John Dickerson, Audra McDonald, and Raúl Castillo. New York Giants star Saquon Barkley and New York Yankee Senior Vice President and General Manager Brian Cashman will support the Sleep Outs at MetLife Stadium and Times Square respectively. 
Kia is the Presenting Sponsor for Times Square Sleep Out. "At Kia America we believe that every day is the day we should be moving closer to ending youth homelessness," said Steven Center, COO of Kia America. "Youth overcome homelessness when they have a safe place to sleep and the chance to rebuild their lives, and we are proud to be teaming up with Covenant House to help put an end to this crisis." 
 Covenant House will also join forces with IKEA Brooklyn to amplify the power of safe shelter and what safe space means to youth facing homelessness. IKEA and Covenant House have co-designed a micro unit representing a transitional housing space for young people similar to a room at Covenant House. IKEA Brooklyn customers will have the option to make a donation or purchase an IKEA item to be donated to Covenant House programs.
Shutterfly will be providing all Sleep Out participants in Times Square with blankets and will be donating proceeds from blanket sales this holiday season to Covenant House. The art of Covenant House youth will also be featured on their website and available for purchase on Shutterfly products. Chick-fil-A Tri-State will be providing the meals for the Sleep Out participants in Times Square along with reflection journals. Additionally, Chick-fil-A Tri-State will be donating a special gift to every resident at Covenant House New York and Covenant House New Jersey.  
To learn more about how you can join and make a difference in the lives of youth experiencing homelessness this November, please visit covenanthouse.org/awareness.
Shelter Is Only the Beginning
From crisis to care: Find out what it's like when a young person enters our doors.
Get news, stories, and insights delivered right to your inbox.