The Promise of Food Security and More at Covenant House Greater Washington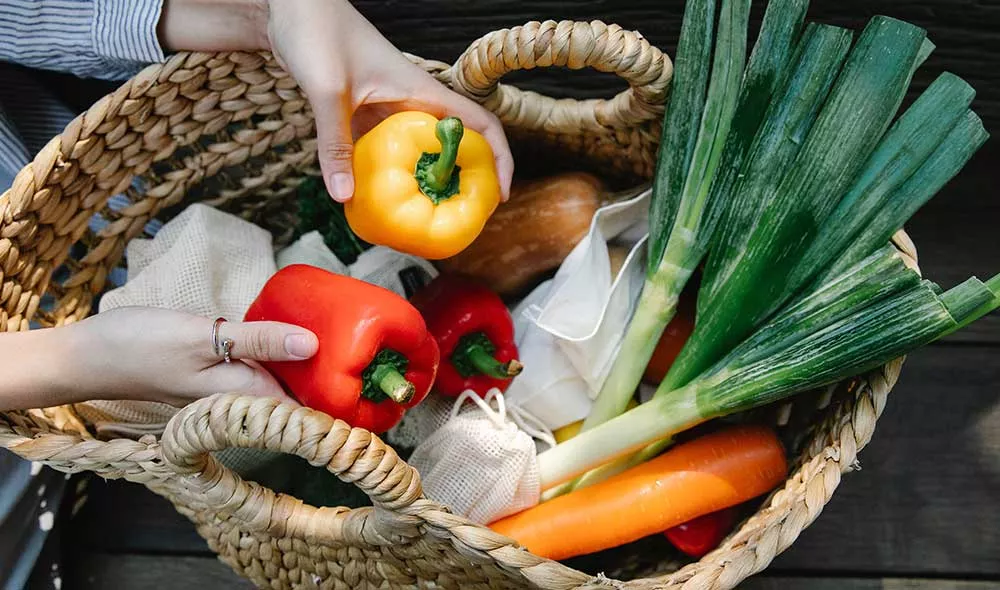 The moment that the 8-ton shipping container, hoisted by a huge crane, hung over the Covenant House Greater Washington shelter was a breathtaking one. Not because any of the CHGW staff on the ground dreaded it might slip but because once on the other side of the building and securely locked into place on the prepared foundation, the shipping container would turn into an urban farm that would bolster food security in the community and open a world of opportunities for the young people CHGW serves.
"The container farm is a total game changer," says Marketing and Communications Director Brené Carrington. "We'll be able to provide our own fresh produce to our chef for the nutritious meals he serves our young people daily. We'll develop intentional recipes to broaden the horizons of the youth in our residential program. And we hope to provide a robust opportunity for the local community to access fresh ingredients at our food pantry on a more daily basis."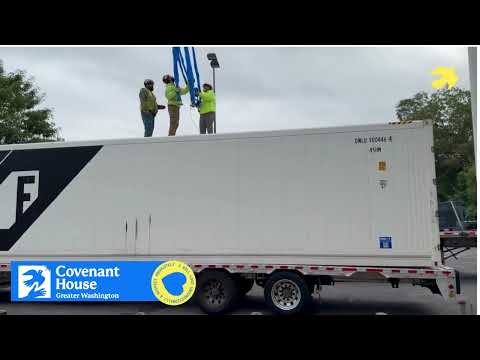 The container farm, an indoor, hydroponic farm that will grow lettuce, leafy greens, herbs, and root vegetables year-round, is the product of a strategic partnership with OurFarm, a nonprofit that seeks to embed farms within urban communities to create a shared source of fresh, healthy produce and food security. The partnership with Covenant House Greater Washington was driven by food security advocate and CHGW social work intern Bobbi-Angelica Morris.
"Tons of food are wasted daily in the U.S., when many of our youth and elders go to sleep hungry night after night," says Bobbi-Angelica, who began her internship at CHGW shortly after starting in the Master's of Social Work program at Gallaudet University. "Our goal is to give the community tools to grow food and sustain themselves." 
But supplying CHGW and the local community with abundant, nutritious, year-round fresh produce is only the beginning. The urban garden also will serve as a catalyst for healing, creativity, community relationships, and new career pathways for CHGW's young residents.
"We hope to leverage and harvest every opportunity for the benefit of our youth and our impact, from developing skills and training in urban farming, to project management, even to event planning as we see the outdoor space where the farm lies as a place to host small community health events," Brené says. "This is a great opportunity that meets so many needs, touches many aspects of our mission, and offers so much potential to us and the community."
"In addition to horticulture education and training programs," Bobbi-Angelica adds, "this farm will be a safe space for internal healing through health, wellness, and art programs. She notes that the youth "will always have a place to sit and connect with their inner feelings and seek mentorship on a holistic level. They'll be encouraged to bring their families to the farm to engage in collective healing and growth as needed."
Growing Partnerships and Career Pathways
Bobbi-Angelica is also excited for the career pathways the new hydroponic farm will inspire in the youth. In fact, it was her concern for our young people's career aspirations that got her thinking about introducing an urban garden to Covenant House Greater Washington in the first place. 
"I realized that none of us will ever be happy doing something we aren't truly passionate about," she says. "I decided to follow my passion for food [security] to show the youth that life has many pathways, and all you have to do is take the first step to achieve a goal," she underscores. 
Bobbi-Angelica's first step to begin the project was to connect with Mike Johnson of OurFarm. 
"OurFarm's mission is to give community organizations and schools access to a source of fresh produce and engage their community around it through educational experiences," Mike says. "Our aim is to mitigate the steep financial, logistical, and operational barriers to having a high-tech, high-yield, community-scale farm, and also develop engaging curriculum experiences around it for the communities we serve."
From that initial contact, Covenant House Greater Washington became OurFarm's flagship hydroponic farm project. "CHGW had everything we were looking for, and then some," Mike says, "including an open mind and a creative spirit." 
Not only did CHGW embrace OurFarm's vision, our staff also introduced the organization to community partners, such as our in-house career-readiness partner, Run Hope Work.
"Run Hope Work had some of the youth engaged in its training programs complete the demolition and construction necessary to prepare our facility with a level foundation and get it ready to receive the hydroponic container farm," Cliff Rogers, CHGW chief operating officer, says. 
From there, OurFarm partnered with unions already known to Run Hope Work to identify minority-owned and -operated contractors to complete the work of ensuring a water supply and electricity to the container farm and an outdoor garden they are also building at CHGW.
"All the costs CHGW would have incurred were donated and/or volunteered. We're fortunate to have close relationships in the community. We even found new relationships, like Community Forklift, just one of many organizations that raised their hand to support this project," Brené says.
Planting has already begun. 
"Seeding for our first harvest began in mid-October. We planted over 1,000 seeds of different varieties of lettuces, leafy greens, herbs, and root vegetables," says Mike. "We also planted microgreens, which will be grown on racks inside the container. We expect to have our first harvest in early December."
Fifteen percent of the weekly harvest will go to Covenant House Greater Washington for our youth and our community food pantry. The rest will be sold to local restaurants and community members to fund the farm operations and the educational and career opportunities in the burgeoning field of high-tech urban farming for our young people.
"The youth are very excited about this project," says Bobbi-Angelica. "They're excited about the job opportunities and skill sets this hydroponic farm will bring them through its educational and training programs."
"This container farm is an endeavor that is much like a seed and a plant; much like the youth we serve," Brené says. "It is truly a package of potential. It requires input from various departments and partners for its success. We're going to do the work, trusting that every part of the project will be beneficial. That's what makes it super exciting. I can't wait to see all the ways it grows and blossoms!"
Shelter Is Only the Beginning
From crisis to care: Find out what it's like when a young person enters our doors.
Get news, stories, and insights delivered right to your inbox.