Pouring Passion into Food Provision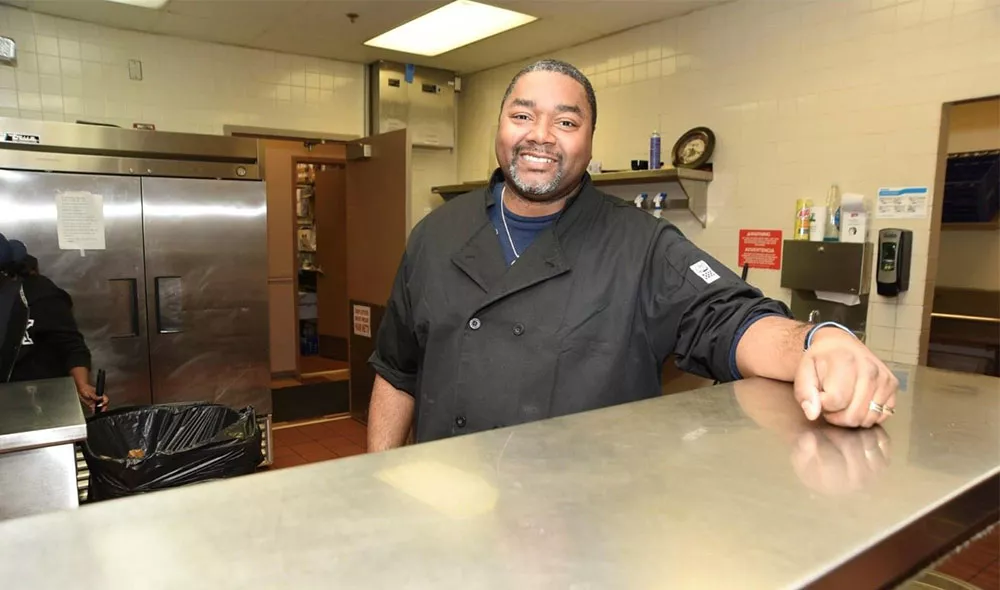 Last year, Covenant House served 1.7 million meals to thousands of young people facing homelessness and human trafficking. That's 100,000 more meals than we served the year before. It's a daunting task. 
"But not when you care," says David Holt, food and facilities manager at Covenant House Michigan. From the time you draw up your food budget, as David does, to the moment you watch a youth dig into a delicious, nutritious meal and know that young person's well-being is at the center of all you do, then a complex job becomes a passion, David says. 
"When you're a youth coming off the streets, or from a broken home, or just getting to Covenant House, it's very important that when you get to me, I'm gonna feed you well, and you're gonna feel welcome. You're gonna feel at home. You're not gonna be afraid. You're not gonna feel like you're in a bad place," David says. "It's important to me that I exude that; that I give that energy to our residents, and to our cooks."
At Covenant House Michigan's two locations, in Detroit and Grand Rapids, David is responsible for everything from managing the food budget and sourcing food and meals, to training, motivating, and managing the chefs and food services teams at both sites. His is a disciplined passion. It's based on years of experience as a chef in busy kitchens and his deep embrace of Covenant House's mission of unconditional love, absolute respect, and relentless support for the youth we serve.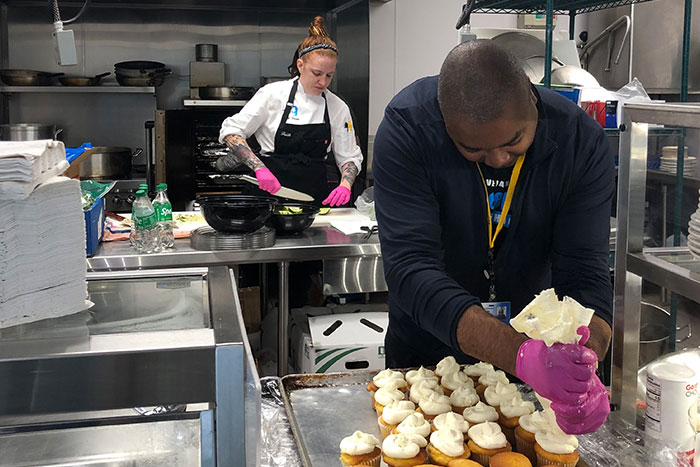 His day begins where you might not expect it to, scouring the morning paper and radio for news of the commodities markets. 
"Before I start my day, I take a look at where things are at," David says. He looks for which items have gone up in price and which are more affordable. "For sourcing food, we try to hit the food pyramid. So, we want meat, vegetables, fruit, fish." Understanding the markets helps him make the most of his budget when it comes time to order. 
He's also a skilled community organizer, reaching out to local community groups, houses of worship, and others for meal support. One of those local partners, Forgotten Harvest, regularly provides surplus food that stretches David's budget. Incorporating donated food into his weekly menus allows David and his cooks to diversify the meals they offer our residents, keeping youth interested, so they'll eat well and build up their strength, resilience, and hope.
"Food is medicine," David says. "It brings joy to our youth. It takes away food insecurity, and that's important because food insecurity makes a lot of residents feel like they can't get a job, can't get an education."
On the other side of the counter, David is both cheerleader and coach for his chefs, encouraging their creativity to stretch the food budget and create attractive meals.  
"We meet weekly and have these discussions about menus and things. Oh, you get smiles in those conversations," he says, "because we're trying to feed people and make them happy. So, what works, what doesn't? What should we never do again, like tuna noodle casserole?"
David encourages his cooks to be mindful of the diverse experiences our youth have had before coming to Covenant House. "This is not easy work," he says. "You have to really understand what's going on with your clients." Being aware of the trauma and other mental health challenges that many young people face while experiencing homelessness is just as essential as providing them a home-cooked meal. 
So, David encourages, coaches, and trains his cooks. Their constancy is another important ingredient to a young person's success. Youth need "a familiar place with a familiar face," he says. 
"I grew up poor myself, and when I was getting the meals at school, the lady that was feeding us, I just remember feeling safe with her, feeling good. You could have a conversation with her and you didn't have to think about the situation you were in. So, I see the difference between having someone steady and having those that are always changing," he says. "Some of my cooks know the youth by name. They greet them. They're happy to see them."
It was while he was growing up that David first tapped into his desire to serve others by providing beautiful, delicious meals. He attended a vocational school and got a job in a barbecue restaurant, where he had a mentor who united expertise with passion. The restaurant's clientele included several members of the NBA's Detroit Pistons. 
From there, David went on to work for larger venues with multiple kitchens running simultaneously, as well as for a food-service company that fed workers at some of the major automobile plants, like General Motors, and local universities. "I was the person that made sure food got to the table," he says, which required focusing on a succession of unmissable steps and tasks.
When his wife suggested he move from for-profit work to nonprofit work, he told her, "That's not for me." Nevertheless, David will mark 10 years at Covenant House Michigan early next year.
"You have to pour your heart into something," he tells his chefs and food services teams, and that's what David Holt does every day at Covenant House Michigan. "To be creative, it has to come from a place of passion, from something you care for." 
And that is what turns a seemingly daunting task into a joy.
Shelter Is Only the Beginning
From crisis to care: Find out what it's like when a young person enters our doors.
Get news, stories, and insights delivered right to your inbox.