We Help Youth Facing Homelessness in New York, New York
Covenant House New York is proud to be New York City's largest provider serving youth experiencing homelessness. We provide affirming and transformative services so each young person can create their own path to independence. Our doors are open 24 hours a day, 7 days a week, 365 days a year.
Get Help Now
On the street? Need help? We're open 24 hours a day, 365 days a year.
Call: 212-613-0300
Or come to:
460 West 41 Street, New York, New York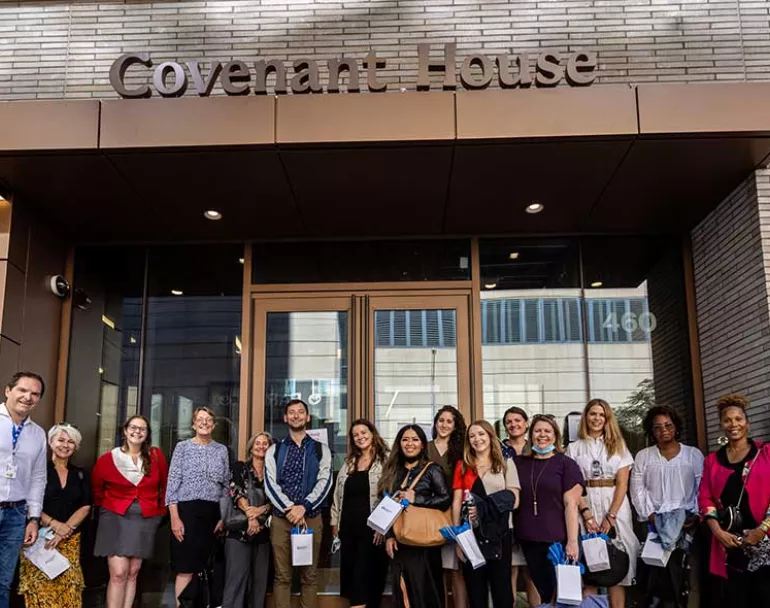 Covenant House New York (CHNY) serves youth ages 16-24 facing homelessness or human trafficking. Our doors are open to all young people who need help, regardless of race, religion, sexual orientation, or gender identity or expression. Our services are based on trauma-informed principles, and our holistic approach helps youth take steps toward real independence. All our services are free.
Our Shelter
CHNY's shelter is located in midtown Manhattan. Our doors are open all day, every day. Our Welcome Center and Youth Shelter team lovingly welcomes youth and meets their immediate needs for a hearty meal, a shower, fresh clothes, and a safe place to sleep. We then help young people develop a personal plan, with health, employment, education, and other goals.
Our Programs
Young people can access short-term emergency care through CHNY's street outreach program, drop-in services, and emergency shelter. Our on-site clinic meets their health needs, and our Covenant Works program helps them navigate the world of employment. Rights of Passage, our transitional housing program, empowers youth to build the skills they need to live independently.
Our Services
Meals

Warm bed

Clothing

Daycare/nursery services

Case management

On-site medical care

Health screenings

Pre- and post-natal care

Substance-use assessments

Mental health care

Legal services

Service referrals

GED preparation

College readiness

Job readiness

Career preparation

Vocational training

Trafficking survivor services
Alaska

California

Florida

Georgia

Illinois

Louisiana

Maryland

Michigan

Missouri

New Jersey

New York

Pennsylvania

Texas

Washington, DC
Shelter Is Only the Beginning
From crisis to care: Find out what it's like when a young person enters our doors.