We Help Youth Facing Homelessness in Toronto, Ontario
We serve young people experiencing or at risk of homelessness or human trafficking with absolute respect and unconditional love. Our ultimate goal is to help each young person move on with their lives in positive ways with counseling, education, stable employment, and secure housing.
Get Help Now
On the street? Need help? We're open 24 hours a day, 365 days a year.
Call: 416-593-4849
Or come to:
20 Gerrard Street East, Toronto, Ontario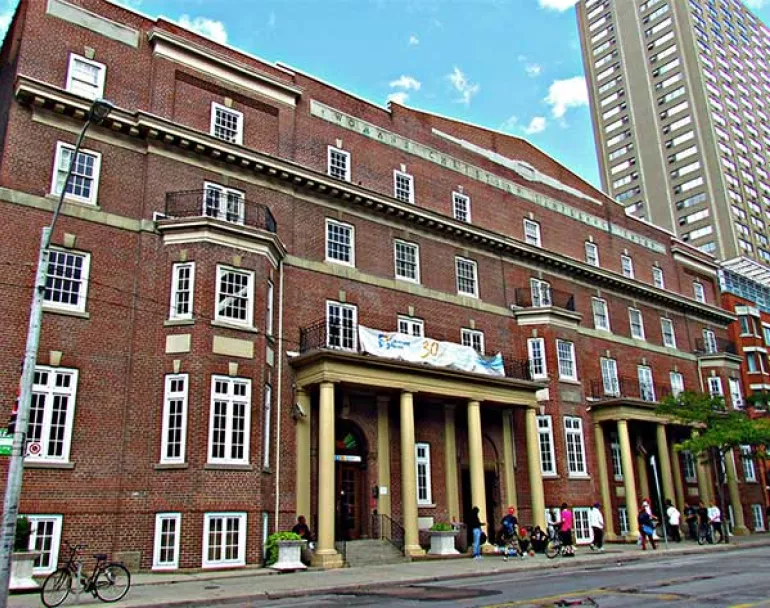 Covenant House Toronto changes lives by providing the widest range of services and support to as many as 300 youth a day. As a national leader, we educate and advocate for change by influencing public policy and delivering prevention and awareness programs.
Our doors are open to youth 16 to 24 regardless of race, religion, sexual orientation, gender identity, or the circumstances that have brought them to our doors.
Our Shelter
Our 24/7 crisis care provides for homeless youth's immediate needs – a safe, clean bed, food and clothing. Our 96-bed shelter is open to youth 16 to 24, including two designated crisis beds for young women who have experienced sex trafficking or exploitation.
Our Programs
More than a place to stay, we provide 24/7 crisis shelter and transitional housing on-site and in the community, as well as comprehensive services including education, counselling, health care, employment assistance, job training and after-care.
Our Services
Housing and after-care

Health and well-being

Education and employment

Prevention and early intervention

Crisis shelter

On-site medical care and education services

Family and natural supports

Supported housing for victims of sex trafficking and sexual exploitation

Mental health and substance use counseling

Employment centre

In-school awareness and prevention presentations on youth homelessness and sex trafficking and exploitation

Transitional housing on-site in the community for homeless youth and victims of sex trafficking and sexual exploitation

Life skills workshops

Cooking For Life, a culinary arts training program

Sex trafficking prevention and early intervention training for frontline workers and the hospitality industry

Drop-in centre

Direct services to victims of sex trafficking and exploration

Individualized, one-on-one support in the community

Mentorship program

Service referrals

Pastoral ministry
Alaska

California

Florida

Georgia

Illinois

Louisiana

Maryland

Michigan

Missouri

New Jersey

New York

Pennsylvania

Texas

Washington, DC
Shelter Is Only the Beginning
From crisis to care: Find out what it's like when a young person enters our doors.