We Help Youth Facing Homelessness in Philadelphia, Pennsylvania
Get Help Now
On the street? Need help? We're open 24 hours a day, 365 days a year.
Call: 215-951-5411
Or come to:
31 East Armat Street, Philadelphia, PA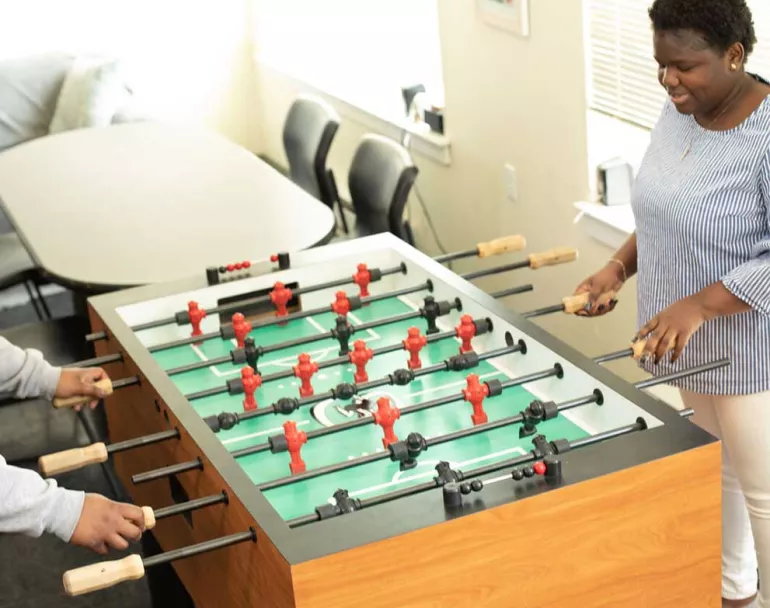 Covenant House Pennsylvania (CHP) is a program for young people aged 21 and under. We aim to help young people facing homelessness become healthy, happy, responsible, productive, and independent adults. CHP has two locations in Pennsylvania: Philadelphia and York, where all our services are free.
Our Shelter
CHP's shelter in Philadelphia is open 24 hours a day, 365 days a year. We welcome all youth with unconditional love and respect and strive never to turn anyone away. We respond to youths' immediate needs for safety, food, clean clothes, and medical care, and we offer them a whole program of transformative change and an opportunity to move their lives forward.
Our Programs
Young people can access short-term emergency care in Philadelphia through CHP's street outreach program, drop-in services, and emergency shelter, and they can access our on-site clinic and educational and vocational services. Our transitional housing program helps young people hone the skills they need for independent living.
Our Services
Meals and a clean bed

On-site medical care

Mental health care

Job readiness

Educational assistance

Transportation assistance

Life skills

Vocational assistance

Transitional living

Case management

Recreation

Trafficking survivor services

Substance-use counseling

Legal services
Alaska

California

Florida

Georgia

Illinois

Louisiana

Maryland

Michigan

Missouri

New Jersey

New York

Pennsylvania

Texas

Washington, DC
Shelter Is Only the Beginning
From crisis to care: Find out what it's like when a young person enters our doors.